YFJ-A300 Boiler Safety Relief Valve Testing Bench /Valve tester /Testing Equipments (1/2''-12'' DN15-DN300)
Introduction of Dory Safety Valve Calibration Test Bench

The Dory YFJ-A Safety test bench integrates hydraulic, mechanical, electrical and medium storage cycles water tank. It has the advantages of reasonable structure, perfect function, stable performance and high degree of automation. It is widely used in high, medium and low pressure sealing and take-off performance of flanged safety valves. It is the most ideal valve testing equipment for valve manufacturing, petroleum and petrochemical, natural gas, water supply and drainage engineering, power plants, valve maintenance stations and other industries.
YFJ-300 hydraulic safety Valve test bench consists of hydraulic system, electrical control system, oil pressure and air pressure instrument system, water booster system (maximum pressure: 40MPa), air booster system (maximum pressure: 25MPa), mechanical system and Hydraulic medium storage cycle composition. The test process and results conform to the regulations and requirements of relevant valve testing standards.The test bench adopts the method of pressing the back of the flange of the safety valve under test with the clamping jaw, which has no external force on the valve body, and performs the jump test and the sealing test on the safety valve under test. The hydraulic system is the main power source of this test bench and is used for the execution of hydraulic cylinder drive functions.
Key Features:
● Designed to test Safety Relief Valves With flanged,NPT thread ends
● Size range: 1/2''-12'' DN15-DN300 (Other sizes available upon request)
● Pressure range: Class 150-Class1500 PN16-PN250
( Pressure to be confirmed as different customers require different pressure ,
customization services available )
● Hydraulic Clamping system with jaws, by means of clamping flanges
with blind flange adaptors ensure the positive seals of the valve flanges.
● Vertical Design
● Stainless steel tubes and pipelines available
● With interlock functions for safety
● Testing fluid by water or air or Nitrogen ,water with a corrosion inhibitor,
according to international valve testing& Inspection standard like API607 etc
● Recycle water tanks
●Extra connection for bubble counter

● Air driven liquid booster pump or Gas booster pump (Maximator or Haskel)
● Data acquisition system is available, including PLC,Touch screen,
Printer,with test graphs & reports.
Size
Nominal Pressure

Testing Pressure

(Liquid)

Testing Pressure

(Nitrogen)

DN15-DN50

1/2''-2''

16-250Bar
16-375Bar
16-250Bar
DN65 1 1/2''
16-250Bar
16-375Bar

16-250Bar
DN80 3''
16-250Bar

16-375Bar

16-250Bar
DN100 4''
16-200Bar

16-300Bar

16-200Bar
DN125 5''
16-160Bar

16-240Bar

16-160Bar
DN150 6''
16-100Bar

16-150Bar

16-150Bar
DN200 8''
16-64Bar

16-100Bar

16-100Bar
DN250 10''

16-40Bar

16-60Bar
16-40Bar
DN300 12''
16-40Bar

16-60Bar
16-40Bar
Description
Safety Relief Valve Calibration Testing Equipments
Machine Model
YFJ-A300
Testing Range
DN15-DN300 1/2''-12''
Testing Pressure

DN300@60Bar by water ,

( Customized pressure available upon request)

Valve Flange Dia.

∅110-405mm

Valve Flange Thickness
16-54mm
Machine Clamping Cylinder
3X∅100mm

Max Clamping Force
50 Ton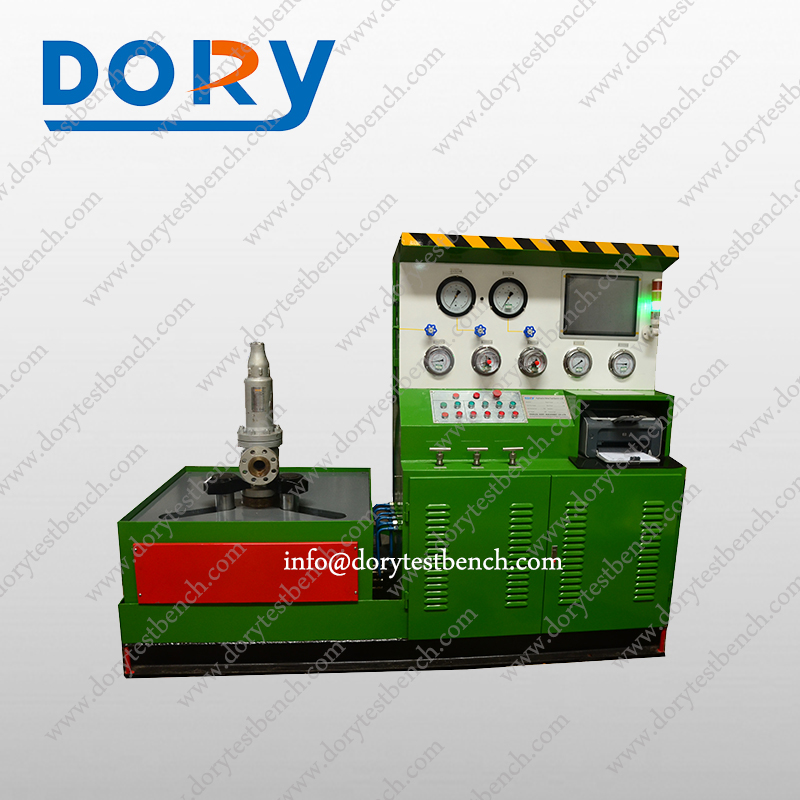 We can customize the machine for you, please send all your details to info@dorytestbench.com