Online Safety Valve Calibration Testing
Safety valves ( Pressure Relief Valves) are very essential to the protection of lives and property, so regular testing is crucial to ensure that valves are functioning properly. But can you really be sure of the results if the test is not conducted under the stress of everyday conditions? Unsurpassed for accuracy, reliability and safety, the advanced technology of DORY online portable safety valve testing was developed to test safety valves while in position, under a full load, for consistently superior, reproducible results.
It is a portable safety valve online calibration device specially developed for electric power, chemical industry, metallurgy and professional inspection institutions. The product is reasonable in structure, powerful, easy to carry and stable in performance, and gathers all the advantages of similar products in China. It is suitable for on-line detection of opening pressure of various spring-type safety valves and pressure relief valves in boilers, pressure vessels and pressure pipelines. Two central processing and data acquisition modes, "cold state" and "hot state", can accurately use two methods for detection. The pressure at the opening height of various safety valve spools can be detected to detect the linearity of the spring. The product is fast, sensitive, safe and accurate. At present, it is a product with better price/performance ratio in China.

Performance parameters:
1. Convenient manual detection method: PLC control, manual pump booster, intelligent and quick operation
2. Full-performance double judgment mode: disc online cold state displacement judgment, hot state feature point judgment
3. Full-parameter digital display mode: real-time display and monitoring of valve disc displacement, lifting force, and automatic generation of measurement results
4. Connection method: direct series connection (without frame)
5. Lifting force range: 0-7T
6. Scope of application (DN15-DN600) Direct acting spring safety valve, pulsating safety valve, pilot-operated safety valve, safety valve with power auxiliary device
7. The controllable range of the valve core opening height: the opening height can be controlled to be 0.0.mm (slightly open) - 5mm (full open)
8. Seat return function: automatic seat return
9. Core configuration: imported hydraulic pump, displacement sensor from Germany; PLC system provided technical and product support by German Siemens
10. Working environment temperature: -20℃-60℃
11. Instrument error: ≤±1%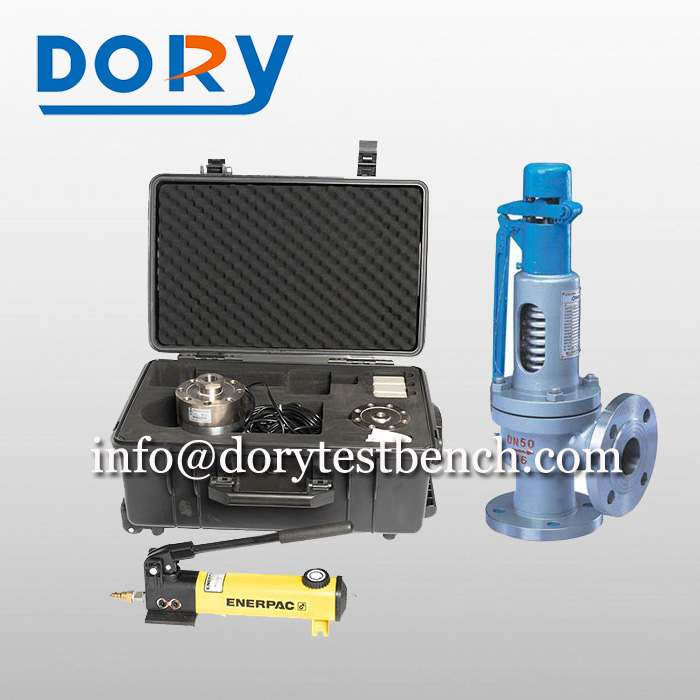 Please contact info@dorytestbench.com for more information.