YFJ-H type Hydraulic Valve Test Bench Testing Gate Globe Check Ball Valves according to API598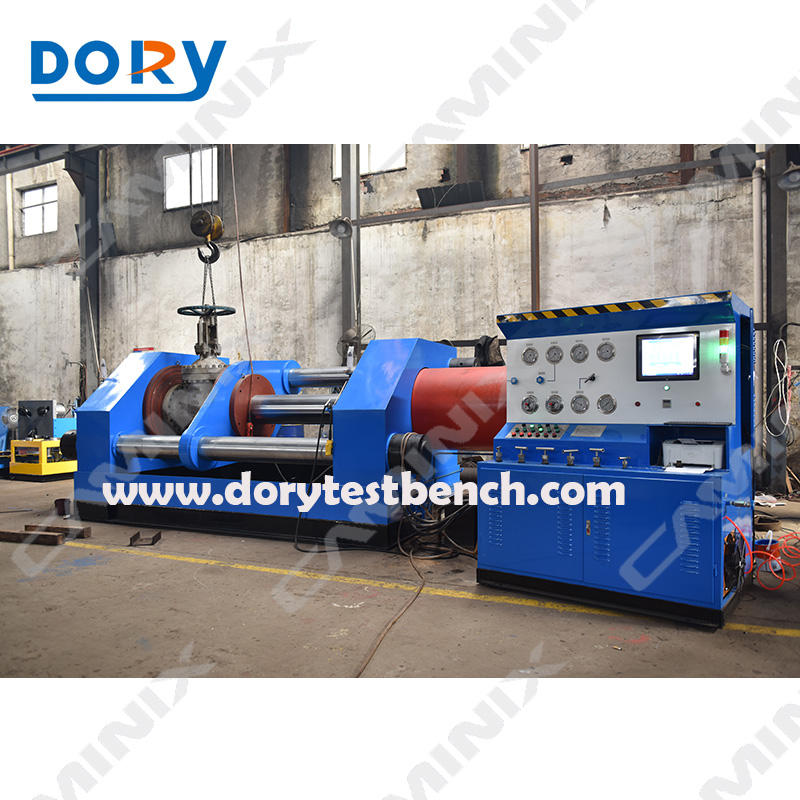 1. Overview of Dory Machinery YFJ-H Type Hydraulic Horizontal Valve Test Bench
YFJ-H valve hydraulic test bench is based on Dory Machinery's many years of production valve testing equipment technology, and is managed and produced in strict accordance with the ISO9001 quality management system. It enables flangeless (J61, J63, Z61, etc.) valves and flanged valves to be inspected and tested on the same machine. The products meet relevant standards such as GB/T-13927-92 "General Valve Pressure Test", ZBJ16006-90 "Valve Test and Inspection" and API598 American Standard.
The test bench integrates hydraulics, machinery, electrical appliances and medium storage and circulation. It has the advantages of reasonable structure, perfect function, stable performance and high degree of automation. It is the most ideal valve testing and testing equipment for industrial units such as valve manufacturing, petroleum and petrochemical, natural gas, water supply and drainage engineering, power plants, and valve maintenance stations.
2. Structure and working principle of YFJ-H valve test bench
1. YFJ-H valve hydraulic test bench is composed of hydraulic system, electrical control system, high and low pressure water pump supply pressure device system, oil pressure water pressure instrument system, control valve system, mechanical system and hydraulic medium storage circulating water tank. The test process and results conform to relevant regulations and requirements.
2. The test bench adopts the hydraulic cylinder to press both ends of the valve under test, and the strength and sealing performance of the valve under test are tested. The hydraulic system is the main power source of this test bench and is used for the execution of hydraulic cylinder drive functions.
3. The hydraulic pressure supply water pump is powered by air pressure (0-0.7Mpa), and the direction is automatically reversed through the reversing valve, so that the high-pressure water cylinder (pump) automatically reciprocates to work, and the water suction check valve and the water outlet check valve are interchanged Continuously supply pressure to the tested valve to meet the pressure requirement of the tested valve.
4. It is suitable for the strength and sealing performance test of welding, socket, threaded and flanged valves of ultra-high, high and medium pressure.
5. Working process: adjust the cylinder pressing pressure according to the nominal diameter and pressure of the valve (refer to the pressure comparison table) - press the workpiece - turn on the low water pump to quickly inject water - turn on the high pressure water pump - keep the pressure timer - release the pressure , reset.
6. Set the self-locking/ interlock function of pressing: when there is pressure in the test valve cavity, the pressing cylinder cannot be loosened. Protects against misoperation.
7. Time timer: Set the pressure holding time - when the pressure reaches the set pressure - press the button to start timing - when the pressure holding time is reached - the alarm light buzzes and the red light flashes.
8. The machine is equipped with a cooling fan: effectively reduce the oil temperature, prolong the service life of the equipment and save energy and reduce consumption.
If you need to know more about this type of valve test bench, please send email to info@dorytestbench.com